Let me start off by 'making myself popular' as my wife would say!
I like Richard Bruton. I know I shouldn't. I'm not a natural Fine Gael supporter eventhough I voted for Francis Fitzgerald in the last election. But I do like Richard. I think he is a consumate professional politician. He's the kind of politician Fianna Fail would give their right arm to have more of. I think he does the whole politician-job thing quite well. To be sure, he shouldn't have been let within an ass's roar of Education, but then, no politician should, unless they had some sort of direct education-profession experience. But Richard is keen to make a difference in Education and I like people who like to make a difference.
Unfortunately, like most Ministers, he is at the mercy of his Department.
Officials feed their Ministers lines about stuff – sometimes the lines have a bearing on reality, but I have some experience where the lines are just plain nonsense. I don't know whether the officials believe their lines to be true (or if they even know or care whether or not the lines are true) or whether they are secretly having a laugh at their Minister. I suspect it's the former, but I'm fairly confident the latter also occurs.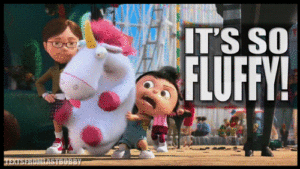 Unfortunately, Ministers are stuck. They have to work with their officials and so they have to work with the lines their officials give them. Even if the lines are about fluffy unicorns doing jigs and reels at the crossroads.
The Minister for Education seems to have spent most of his day reciting ad nauseum lines which I figure his officials gave him.
Surely he can't have thought that what he was saying was anything but utter nonsense.

Surely, he must have been on the radio or talking to journalists all the while thinking 'the things I have to do to please Enda and Michael. If only I was Taoiseach'.
What's even more amazing is that journalism has sunk to such a low in Ireland that journalists can't be bothered to check whether the Minister's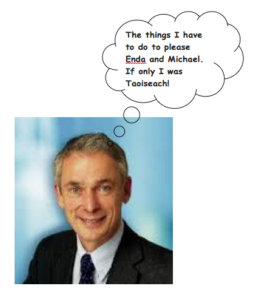 sums add up. Hence headlines like this from what used to be the 'paper of record'.
You see, the Minister's numeracy skills appeared to be lacking judging by the lines he recited from his officials. He couldn't do this simple Project Maths exercise, one that would have embarrased a reformed junior cycle student, never mind the better sort.
What is the difference between 43 and 33?
33 is the number of FREE Croke Park Hours teachers agreed to do in the interests of the country. We agree to do them under the Haddington Road Agreement. We did them right up to the end of that agreement. And when that agreement was fulfilled and over, we stopped doing them.
The Minsiter was making a big deal about this today saying, 'if teachers just worked the extra 1 hour a week like everyone else, there is a substantial offer on the table for them'.
Well, no, there isn't.
Firstly, the dispute is not over the 33 Croke Park Hours (the 1-hour a week). Ok Carl?
And the so-called 'offer on the table' is the Lansdowne Road Agreement which we do not want and which everyone now agrees is a Dead Man Walking.
We stopped doing the Croke Park Hours in September. No one missed them. Stopping these hours has had ZERO effect on schools. Schools were still operating without them. Think about this. That's 17,500 hours every week which were yeilding NOTHING for schools except taking away from extra-curricular sports (Ahem, GAA!) and other student-centred activities. If I was a parent of a child in second level I would have been livid that I had to leave work early to collect my kids because their teacher could no longer take them for sports after school.
The Minsiter didn't even notice the hours were gone and only decided to make a point of it today because a. his officials fed him that line, b. he knows the government is in the wrong and is now desparately trying to save i. face and ii. the government or c. all of the above.
Today's dispute is over the 43 Substitution and Supervision Hours
43 is the number of hours Substitution and Supervision we agreed to do under the Haddington Road Agreement. We used to be paid for these, but under the HRA, we agreed, in the interests of the country, that we would do these for free for 3 years. We did.
For his part, the Minister promised to pay us a small sum – amounting to €6 every forthnight – in two pieces – one in 2016/2017 and the other small piece in 2017/2018. The Minister broke his promise saying he would not give us this money unless we signed up to the new Lansdowne Road Agreeement. This Virginia, as you know, is the definition of tyranny.
When the Minister decided not to pay us for working S&S, we decided not to work S&S. 
If the Minister had kept to his bargain, his bargain, then all schools would have been opened today.
What lesson do young people take from this? That it is ok to break your promises? That it is ok to ride roughshod over people once you have power over them? That your word means nothing? Come on Minister, seriously.
What is the difference between €6 and €6000?
€6 per fortnight (teachers are paid fortnightly) (at a rate of €1 per hour) is the amount the Minster promised to pay us AFTER doing 3 years of FREE Substitution and Supervision before he broke his promise.
€6000 is the amount of pay rise the Minister will get this year.
What is the difference between today's lock out and tomorrow's (8 Nov) strike?
Teachers turned up for school to work today. But they were locked out because some schools could not organise contingency S&S arrangements. The Minister thinks the ASTI should be the nice guy and help the government break the strike by allowing ASTI principals work contingency S&S arrangements. We all know what happens to the nice guy in these situations.
Today's lock out happened because the government broke its promise to pay us under the agreement we had.
Tomorrow, schools are closed because the government tried to use its power to bully us into an agreement that did NOTHING to fix the issue of pay inequality. Unequal pay is wrong. Pay inequality is an attack on ALL workers – if you think this is just a teachers strike, you are wrong.
The Minister has misjudged the level of anger among teachers. All along – when people were asked to take a hit in the interests of the country, we were first to sign up. We acted as model examples of the kind of citizen that would put Ireland right again after the other kind of 'citizen' screwed up the economy. We played nice in the industrial relations playground. And now the government is trying to take advantage of us.
Enough, Minister, is enough.